STREAMLINING LOGISTICS WORKFLOWS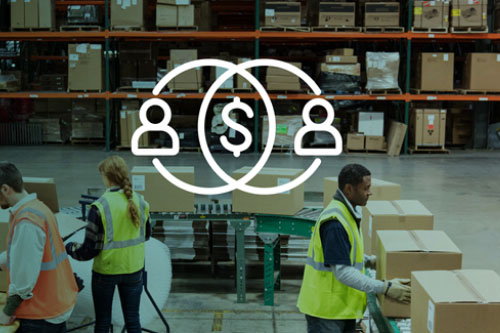 As consumers, we are purchasing more and more online compared to traveling to a brick and mortar store. In fact, eCommerce sales have doubled in the past five years and are approaching 20% growth year over year. And, this growth was accelerated with COVID-19's shelter-in-place orders that shifted online shopping from an occasional method to the only method of shopping for many.
This tremendous growth in eCommerce is driving increased distribution volume. And that has placed a burden on companies to maintain operational efficiencies while remaining profitable and adhering to regulatory compliance. But, achieving this has become harder. Consumers expect quick turnaround and more options, like next-day shipping, ship to store, and ship to locker.
Logistics processes are hugely dependent on paper, making them slow, inefficient, and therefore challenging to improve. This results in higher costs and less than ideal productivity. Paper-based workflows make important data contained in logistics documents – forms, invoices, bills of lading, delivery receipts, and packing lists – difficult to process.
For logistics companies to keep up with the growth, expansion and ever-increasing movement across their global supply chains, change is unavoidable. That change is digital transformation. And the COVID-19 pressures placed on logistics specifically really brought to light the importance of agility in this area.
DIGITAL TRANSFORMATION
Digital transformation is about making the shift from manual, inefficient processes, to digital processes that streamline operations and boost efficiency. It's all about using automation to eliminate errors and delays, and to gain a complete view into the distribution processes.
C.F. Biggs has solutions that can help simplify even the most complex document processes. Whether your goal is to maximize productivity, increase visibility, or eliminate costs, C.F. Biggs has a solution to reduce your manual, paper-based tasks that are disruptive to shipping and receiving operations.
Your logistics teams don't need to feel the strain of this growing trend for online ordering with quick delivery times. Small changes to streamline operations can have a huge impact on a company's success, and C.F. Biggs can help navigate those changes.